Harrisburg, PA Cosmetic Dentist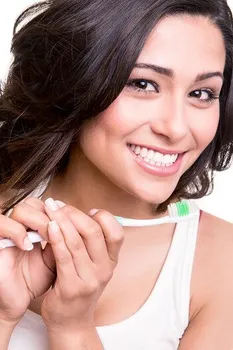 Some people are blessed with a beautiful smile from birth, but most people need a little bit of help to get their smiles up to par. The aim of cosmetic dentistry at the dental office of Dr. Aziz A. Majid DMD, MSD, PC in Harrisburg, PA is to take your uniquely beautiful smile and make it look as perfect as possible—whiter, straighter, and contoured to fit your face.

Dr. Majid specializes in cosmetic and restorative dentistry, smile makeovers, and full mouth reconstruction. Thanks to the combination of professional care, cutting edge techniques, advanced dental technology, and a commitment to each and every patient, Dr. Majid is among the leading cosmetic dentists in the Harrisburg, PA area. He uses only the finest dental materials for his restorations and a highly professional dental lab to ensure patients are getting the best quality care and treatments they deserve. You will soon see why Dr. Majid leads the way in premier cosmetic dental services!
Schedule a cosmetic consultation with Dr. Aziz A. Majid or learn more about the modern cosmetic treatments available at our Harrisburg, PA office by calling (717) 652-5288 today!

What Is Cosmetic Dentistry?
Cosmetic dentistry primarily focuses on the aesthetics of your smile rather than the health and function of your teeth and gums. Cosmetic dentistry gives patients the smiles they've been looking for, from whitening to recontouring to replacing missing teeth. When you are looking to change the appearance of your smile, whether minor or drastic, then cosmetic dentistry from Dr. Majid is the answer!
From more conservative treatments to more aggressive procedures, cosmetic treatments can offer anyone a more attractive smile. Advancements in dental technology have also created more natural, tooth-like options and materials then ever before, so no one will ever be able to tell that you have received restorative dental work.
If you're interested in taking advantage of the cosmetic dentistry services we provide, call our Harrisburg, PA office today to schedule a consultation with Dr. Majid.


Why Are Cosmetic Dental Services So Popular?
A smile is a way of telling someone we're happy, we're pleased to be in their company, or that we're having a good time. It's a greeting and an important social cue. So if you feel like you have to hide your teeth from others, it can affect how you interact with the world. Cosmetic dentistry allows people with even the most discolored or damaged teeth to see a smile improvement, which is why it's so popular at our Harrisburg, PA and other dentist offices across the country.


Cosmetic Dentistry Treatments
Here are some of the most common treatments that your Harrisburg, PA cosmetic dentist offers:
Invisible braces (straightens up the smile using clear removable trays).
Veneers (cover the front of the teeth to make them look whiter, straighter, and smoother).
Crowns (cover the whole outer enamel of an imperfect tooth).
Professional teeth whitening (bleaches the teeth so they look shades whiter).
Dental implants (permanent tooth replacements). - Gum surgery (to fix "gummy" smiles).
Cosmetic fillings (fixes cavities with tooth-colored matter).
Cosmetic bonding and contouring (for minor cracks and chips in the teeth).

Benefits of Cosmetic Dentistry
You never know just how much of an impact a beautiful smile can have on your life until you have one. People look at you differently and your self-confidence increases significantly.
Here are a few other benefits of cosmetic dentistry:
It reacquaints you with your dentist and encourages you to take better care of your teeth.
Modern cosmetic solutions last for many years—sometimes decades.
Cosmetic procedures can shave years off your appearance, making you look and feel younger.
Your journey to a better smile begins with a consultation with our cosmetic dentist, Dr. Aziz A. Majid, DMD, MSD, PC. Call our Harrisburg, PA dental office today at (717) 652-5288 to make an appointment!